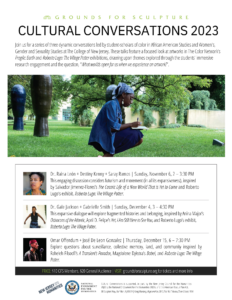 We invite you to join us at Grounds for Sculpture for a series of dynamic conversations between TCNJ student-scholars and guest Artists. These talks feature a focused look at artworks in two exhibitions at Grounds For Sculpture.
FREE for TCNJ students, staff & faculty with PROMO CODE: AIA2022 (online registration required)
What: three 1.5 hour long TCNJ student-scholar led discussions with BIPOC Artists. Themes explored: futurism, migration, fragmented histories, belonging, surveillance, community memory, and more.
Who: TCNJ student-scholars, Guest Artists, and mentors, Dr. Leigh-Anne Francis (AAS & WGSS dept) and donia salem harhoor (Interdisciplinary Artist)
Where: Grounds For Sculpture, 80 Sculptors Way, Hamilton NJ. All talks to be held in the Museum Building
When: Thursday, December 15, @6–7:30pm with Omar Offendum (rapper, poet, peace activist) whose music blends hip hop & Arabic poetry & José De Leon Gonzalez (Chem – TCNJ student) inspired by the onsite exhibited sculptures of BIPOC artists, including Ruborto Lugo: The Village Potter
ABOUT THE PROJECT
Over the past several months, a brilliant cohort of four BIPOC TCNJ student-scholars have been deeply engaged with this project at Grounds for Sculpture (GFS). They have been immersed in interdisciplinary, intersectional, research-based explorations inspired and informed by the ceramic work and sculptures of four BIPOC artists.
The culmination of each of these residencies is a Cultural Conversation  — a generative public conversation between the student-scholars and an artist in the field whose work resonates with the themes that were explored. All of these take place at Grounds For Sculpture.
For more information please contact Dr. Leigh-Anne Francis at francisl@tcnj.edu or Meyri De Los Santos at delossm1@tcnj.edu.