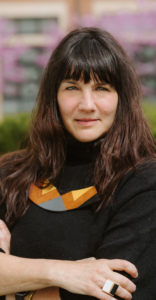 Dr. Marla L. Jaksch, professor in the Department of Women's, Gender, and Sexuality Studies, was named the third recipient of the Barbara Meyers Pelson Chair in Faculty-Student Engagement. Dr. Jaksch will serve a three-year term beginning July 1, 2021.
The Barbara Meyers Pelson Chair in Faculty-Student Engagement recognizes and supports faculty members who have a distinguished record of faculty-student collaborative scholarship and teaching, and are exemplars of the teacher-scholar model.
Dr. Jaksch has been at the forefront of advancing faculty-student research collaboration at TCNJ for eleven years. She was the founding coordinator of the Office of Competitive Post-Graduate Fellowships. Her research with students has generated publications, conference papers, and workshops; served as impetus for new special topics courses; and led to successful grant proposals. In addition to her scholarly work with students in these settings, Dr. Jaksch has collaborated with students in TCNJ's Mentored Undergraduate Summer Experience (MUSE) program over multiple summers. Her work with students has expanded beyond her department as she has collaborated with faculty and students in the departments of African American Studies, International Studies, and the School of the Arts and Communication. In addition to Study Abroad to Tanzania, together with Dr. Deborah Hutton, she has developed a community engaged learning and research-based, faculty-led study abroad course in India that centers on the Sustainable Development Goals.
Dr. Jaksch is actively involved in making the Department of Women's, Gender, and Sexuality Studies (WGSS) and the campus community more equitable for students from marginalized and underrepresented groups. For instance, Dr. Jaksch has taken a crucial leadership role in working to make WGSS' study abroad courses and other WGSS programs accessible to low-income students. She also has a leadership role in making WGSS' curriculum more accessible to students with disabilities.
In her application for the Barbara Meyers Pelson Chair in Faculty-Student Engagement, Dr. Jaksch outlined a robust plan for promoting faculty-student collaborations at TCNJ across disciplines and with community partners. We believe that her work will reflect and advance to the next level our already outstanding record in faculty-student engagement.
In our third call for applications for this prestigious chairship, made possible by a generous gift from alumna Barbara Meyers Pelson, we received exceptional responses from a highly competitive pool of faculty members. Mrs. Pelson is thrilled to be supporting the college's teacher-scholars in this way and shares in our excitement about Dr. Jaksch's appointment.
Please join me in congratulating Dr. Jaksch and in thanking members of the Mentored Research and Internships Council for their challenging work reviewing the applications. Selecting a candidate from such a talented pool of applicants was no easy task.